Flemington Outlets
---
The Flemington Outlets are a small upscale shopping mall, nicely integrated in the center of Flemington NJ. With just 40 stores and a gross leasable area of just 165,000 square-foot, it is one of the smaller outlets in New Jersey, but it may still be worthwhile to pay it a visit if you are not into the big outlets. The NJ outlets offer a variety of shops that offer men's, women and children clothing as well as kitchen gadgets. Receive extra savings on brands like American Eagle, Calvin Klein, Le Creuset, Michael Kors and much more.
---
---
The Flemington Outlet Stores are built in a colonial style to give it a nostalgic look and feel and enhance your shopping pleasure. As the mall is not so big, you will need about 2 to 3 hours to go though all the shops.
General complaint about the Flemington Outlets is that this outlet mall is lacking any big, attractive stores to act as a shopping magnet and would attract more shoppers. Also for grabbing a snack the provided facilities are limited with only a Fudge Store and a Greensleeves Village Bakery.
The outlet is reachable via Church Street and Central Avenue in Flemington and surrounded with parking lots at the Stangl Road. If you print out a map of the outlet, you can see were to park and which stores are in the Flemington Outlets store directory.
For recent updates, news and sales events you can check out the official site. You can also sign up for the 'VIP Shopper Club' and receive free coupons for some extra discount.
Flemington Outlets Address, Map and GPS
You can use the following address and GPS to locate the Flemington Outlets:
Flemington Outlets Hours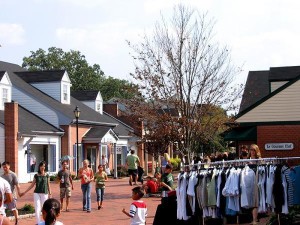 The Flemington Outlets hours of operation provide you plenty of shopping time. The outlets have longer opening hours close to and during the weekend and special extended hours during the national holidays and the long holiday season in November and December.Check out the weekly regular hours below:
| | |
| --- | --- |
| Monday | 10:00 AM - 6:00 PM |
| Tuesday | 10:00 AM - 6:00 PM |
| Wednesday | 10:00 AM - 6:00 PM |
| Thursday | 10:00 AM - 6:00 PM |
| Friday | 10:00 AM - 9:00 PM |
| Saturday | 10:00 AM - 9:00 PM |
| Sunday | 11:00 AM - 6:00 PM |
During special sales and holiday periods, there are extended hours where the outlets may open an hour earlier and stay open until 10 P.M, like on Black Friday.
Holiday Hours
Below you will find extended holiday hours that apply during special periods throughout the year. Especially during Thanksgiving, Black Friday and Christmas these are extra long to provide you more time to shop for present or a new outfit.
| | | | |
| --- | --- | --- | --- |
| Currently no Holiday Hours | | | |
Stores Directory
Find 40 of the best designer outlets in the Liberty Village Premium Outlets store directory. Check out the full list and start shopping for discounts.