15 Reasons You Should Be Shopping the Best & Biggest Outlet Malls in NJ
---
There are plenty of good reasons for shopping the malls in NJ and you will find the top 15 reasons why New Jersey is regarded as one of the best shopping destinations in the US. Also find out the best outlets and malls in New Jersey and why the biggest mall is not also the best. When you need to find the best Outlet Mall in New Jersey, the outcome will be different for everyone based on personal needs.
There can be many reasons for one mall being just right for you, while another cannot meet up to your expectations at all. New Jersey offers malls and outlets for everyone and this guide will help you in selecting the best malls in NJ for you and start shopping your favorite brands. Check out the best NJ has to offer in terms of shopping.
---
---
15 reasons to Shop New Jersey, Starting Now
New Jersey is famous for its shopping malls, and this site lists around 30 of the best shopping malls in NJ. North and Central Jersey are more occupied with malls than the South of the state or the Jersey Shore, as these regions also attract many shoppers from New York and Philadelphia. So let's see the 15 reasons why you should start shopping New Jersey:
---
| | |
| --- | --- |
| | Tax FREE Shopping, regarded as one of the main reasons for shopping in NJ. This means when you shop for new clothing or shoes, there will be no tax added on your bill. The main reason many New Yorkers make a trip to NJ. |
| | |
| | One of the largest malls in the US, Garden State Mall. This huge mall in Paramus has 335 stores and 2,1 million square-foot of shopping space and is a big competitor for the Woodbury Commons Outlets in NY. |
| | |
| | Top notch designer brands at outlet prices at the Atlantic City Outlets, which is just walking distance away from the many Casino's in the city and a great way to spend your winnings. |
| | |
| | High end shopping in Short Hills and The Shops at Riverside. Two of NJ's most exclusive shopping malls, for those who like some upscale shopping and expensive designer fashion from top brands like Hermes, Louis Vuitton, Ferragamo, Burberry or Tiffany & Co. |
| | |
| | A great variety of malls in a relatively small area makes NJ the perfect shopping state. From Jersey City you can easily reach many malls in NJ or NY, making this a great base for a shopping holiday. |
| | |
| | Enjoy huge discounts and deals at the NJ malls, excellent for bargain hunters. Many malls have great deals and discount coupons available, meaning even more off the prices compared to other states in the US. |
| | |
| | Proven to be a popular tourist destination, with 95 million tourist visitations a year. Not only shopping, but New Jersey offer much more for tourists to enjoy and many activities can easily be combined with a day or two of shopping. |
| | |
| | New Jersey has a great infrastructure of roads and public transport, to reach all of the outlets and malls quickly. So take your car or the NJ Transit to quickly get to your destination. |
| | |
| | You can combine shopping with a day at the beach! Did you know Jersey Shore is not the only good beach in NJ? The beaches are diverse and plentiful, with up to 130 miles of Atlantic Ocean coastline for you to cool and relax. |
| | |
| | Great weather for shopping, well… most time of the year. With its nice summers and mild springs and autumns, although winter can be daunting sometimes. Lots of indoor malls, but many outlets will have covered walkways to protect you from either sun or rain. |
| | |
| | New Jersey offers some great hotels and B&B options to stay after a day of shopping. For example the Water Club at Borgata (Atlantic City, NJ), The Westin Jersey City or the Hilton Short Hills. |
| | |
| | Located nearby New York, so an excellent base for some side seeing in the Big Apple. And did you also know NY has some great shopping places to offer as well? |
| | |
| | NJ has more diners than any other state in the US, making it 'the diner capital of the world'. An excellent way to finish a day of shopping. |
| | |
| | Threat your family with a trip to the world's largest theme park, the Six Flags Great Adventure, located in Jackson, New Jersey. Combine this with a visit to the Jackson Outlets and your kids will love you for it. |
| | |
| | Finally the long awaited American Dream Meadowlands will be opened next year. Making this the new biggest mall in NJ, with over 500 retailers, a huge ski slope, Sealife Aquarium and Legoland all in the vicinity of the mall. Another reason to shop NJ! |
| | |
---
Which is the Biggest Outlet Mall in NJ?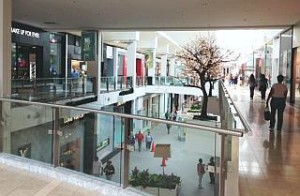 If distance is not an issue and you want to go all the way, then finding the biggest mall in NJ might just be the best for you. Visiting the biggest mall means you can select from a large amount of outlet stores, lots of designer fashion brands and take a day or two for non-stop-shopping. Planning a trip to the biggest mall may take some extra time before you make the visit, as these malls also tend to be popular among other shoppers. If possible, try to make this one a weekday outing if you can and especially avoid holiday shopping. There are over 335 stores and being stuck in the crowd won't get you to visit all of your favorite ones.
There are a couple of really big outlets in New Jersey, but there can be only one winner.
The Biggest Mall in NJ is: Garden State Mall in Paramus NJ.
If Paramus is too far away, or if 335 stores seems a bit overdone, there are some nice alternatives for you. Try out on of the two runner ups:
In 2017 the biggest mall will be the American Dream Meadowlands, which will have its grand opening in 2017 and is expected to have over 450 retail, food and specialty stores.
Where You Can Find the Most Exclusive Designer Brands
If you are into an upscale mall with luxury designer brands and want to visit the most exclusive stores, then the Garden State Plaza may not be the best New Jersey shopping mall for you. Exclusivity means that an outlet has some stores that are nowhere else to be found than in that particular location, either in the whole US or NJ only. It means you are able to find designer clothing, shoes or apparel uniquely sold at that location and that make the trip worth it. Special items that make you smile and let your shopping heart beats faster. If this is what you are after, there are some nice options in NJ.
The most exclusive mall in New Jersey is the Short Hills Mall.
The Short Hills Mall has 160 stores in its directory and features big brands like Dior, Dolce & Gabbana, Gucci and Louis Vuitton. The best part are its boutiques, 40 in total and some of them have their only location in Short Hills. The mall's design and store layouts are built to look exclusive and luxury, but the best part is that it lacks a noisy food court and there is no movie theater. These characteristics really make it stand out from the other malls in New Jersey.
A nice runner up is the Riverside Mall in Hackensack NJ. One of the smaller outlets in the state, but it has some exclusive brands to offer like Brooks Brothers, Burberry, Hermes, Kate Spade, Louis Vuitton, Omega and Salvatore Ferragamo.
What Other People Say About the Outlets in New Jersey
When you check review websites like Yelp or TripAdvisor, you will see what other people consider the best mall in New Jersey. OutletsNewJersey.com already listed the most popular outlets in NJ on the front-page, so you can quickly compare the malls. Purely based on rating, there is one mall that stands out on the most popular review sites:
The best reviewed mall is Jersey Gardens Mall in Elisabeth NJ.
It receives a top 4.5 star rating on TripAdvisor, 3.5 stars on Yelp and 4.4 stars on Google review.
Where Can I Find an Outlet Near Me?
Some people are just looking for a nice outlet to start shopping and in that case the best outlet mall in New Jersey is an 'Outlet Near Me!'. If this is your criteria of finding the best place to shop, then check out the map of New Jersey listing all the outlets and malls and find that shopping paradise near you!
So there you have it! The best outlets and malls in New Jersey. Like our page and share this article among friends, so they can also make the best choice for shopping in New Jersey.