Just before this years holiday hours start ticking, five new stores have had their grand opening at the Newport Centre Mall in New Jersey. The three level shopping mall will be adding some great new brands to their existing lineup of stores, that currently has more than 130 specialty shops in its directory. Plan is to have everything ready before the 2016 Holiday Season starts, so shoppers can enjoy the new stores.
Zara at Newport
First off is Zara, one of the largest fashion brands for men, women and children fashion and accessories. The brand recently opened its 20,000-square-foot store at the Newport Centre mall in Jersey City, enhancing the center's position as one of the premier malls in NJ. The new Zara store is located at the 2nd level, near the Kohl's Department Store. For updates about the store and special sales & events, check the Zara Facebook page.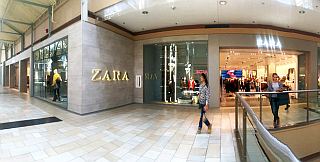 e.l.f. Cosmetics
e.l.f. Cosmetics will open its Studio store at Newport in November 2016, right before the crazy Thanksgiving Sales Weekend kicks off. e.l.f Cosmetics is known as a luxury brand for beauty products and professional-grade cosmetics at competitive prices. The 1,200-square-foot will be located at the second level of the mall, offering you a wide variety of products, for eyes, lips, and face. More information can be obtained on the e.l.f. Facebook page.
The Body Shop, Cheesecake Factory and Zinburger
Also new to the lineup of Newport are The Body Shop, Cheesecake Factory and Zinburger. All well known tenants that will surely enhance your shopping experience when visiting the Newport Mall. While The Body Shop and Cheesecake Factory already opened earlier this year, Zinburger Wine & Burger Bar is expected to open doors right after Thanksgiving. You can find both restaurants on the first floor, right between Kohl's and Macy's and The Body Shop next to Perfumania.
Uncertainty about Macy's at Newport
Meanwhile it is unclear if Macy's will keep its store at the Newport Mall open early next year, as the department store recently announced it is forced to close 100 of its stores across the US by "early 2017". Macy's has several stores in New Jersey malls. You can currently still find them in the Newport Mall, Short Hills Mall and the Livingston Mall.